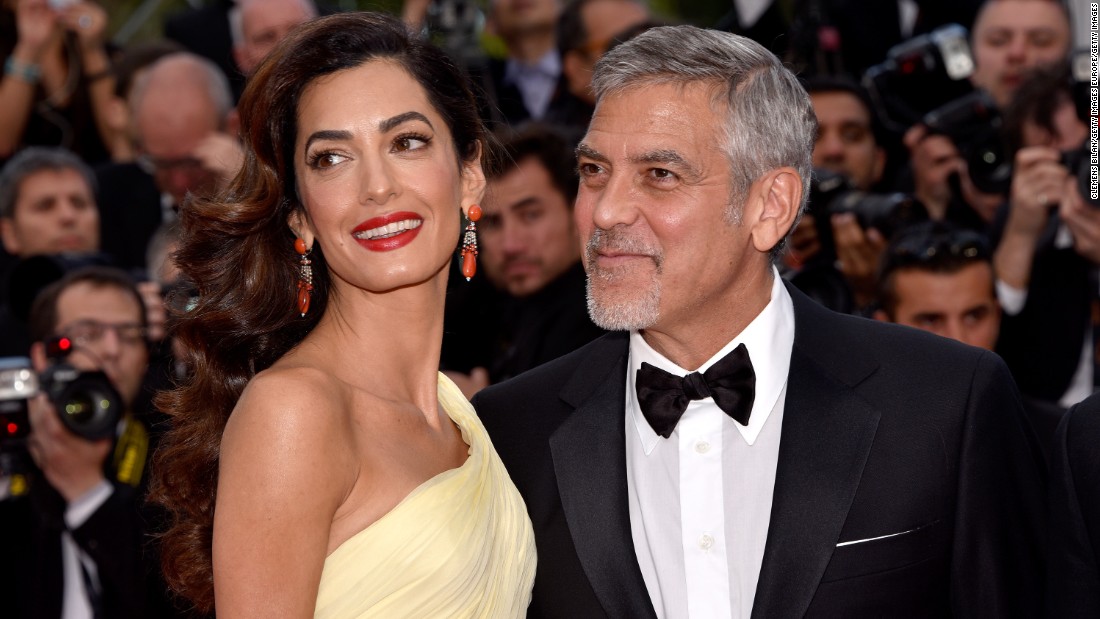 (CNN)Actor George Clooney, 55, will soon to be a father to twins with his wife, human rights lawyer Amal Clooney, 39 — reigniting a conversation about what it means to be an older dad.
Despite growing awareness of in-vitro fertilization and aging mothers — such as Janet Jackson, who gave birth last month at 50 — some of the science and social impacts of aging fathers are less clear. But that isn't deterring hopeful dads from growing their families.
"It's very well-documented: Men are having children later into life," said Dr. Mary Samplaski, a male-fertility specialist at Keck Medicine of the University of Southern California. "It's become so much more mainstream."
Men's fertility does not drop as sharply as women's as they age, said Samplaski; many can have biological children long after they're old and gray without the need for technology to intervene. But some of Samplaski's patients have questions about the risks of fathering later in life.
Knowing the risks
A Swedish study in 2014 added to the evidence that dads older than 45 are more likely to have children with schizophrenia, autism and other psychiatric disorders. Still, even for these fathers, the absolute risk was found to be very low — well below 1% for certain conditions.
For one man who saw the study, the findings pushed him into action.
"I got tons of blowback about it," said freelance writer and television producer Philip Lerman, who has written about his decision to become a father at 46.
After the Clooneys' news spread on social media, some on Twitter compared George Clooney to a grandfather. Lerman said the reactions he received mirrored that.
In one Humans of New York photo that drew more than 70,000 responses, a young woman with a 78-year-old father said that it's "hard to be this young and watch them go that way already."
While some children of older parents commented about the difficulties caring for sick and aging parents, others spoke of the valuable lessons they had learned from parents with more life experience.
Another story that drew strong responses was a 2011 New York Magazine cover story featuring a white-haired model who was digitally altered to look pregnant placed next to the headline, "Is she just too old for this?" In response to the article, which addressed both men and women, some readers called out aging parents for being "selfish," lamented not having grandparents in the picture and expressed worry about older parents' mortality.
Lerman, now 61, has a 14-year-old son named Max, whom he and his wife conceived using a donor egg. People told Lerman he was "too old" to have a child for many of these reasons. Some suggested that he would have trouble keeping up with a kid and that he might put his future son at risk for genetic diseases.
See the latest news and share your comments with CNN Health on Facebook and Twitter.
"I took a chance on having … a child with problems," Lerman said, adding that it's important to think about the alternative.
"What if I had listened to them?" he added. "What if … Max didn't exist, and he didn't get to play Little League, and he didn't get to be the star in the school play last year?"
Lerman admits that he "can't do the things that a younger man can" but said children like Max benefit from parents who have taken time to become more emotionally and financially stable. Where some have criticized his age, Lerman believes that older parents are just one manifestation of the diverse American family.
"Max has an older dad; his friend has two dads," Lerman said. "We've got adopted kids, multiracial kids. It's a beautiful, wonderful mix in our school."
Source: http://edition.cnn.com/